Extinction Rebellion is one of the most prominent and fastest growing organisations in the fight against the climate emergency. It's never been far from the headlines since it was founded in 2018 with its mix of attention-grabbing stunts, direct action and culturally-rich events.  But it is now altering its approach, with an admission that it hasn't created enough change.
XR's tactics have often tested the boundaries between civil disobedience and peaceful protest. But in a New Year's Day message to supporters entitled "We Quit", they say that a new direction is needed. 
"This year, we prioritise attendance over arrest and relationships over roadblocks, as we stand together and become impossible to ignore," says the statement.  This effectively means focusing on creating mass demonstrations and events to show politicians that the people demand change.  The first aim is to get more than 100,000 people to assemble outside the Houses of Parliament from 21st April.
The statement explains the reasons behind the move.  "We recognise and celebrate the power of disruption to raise the alarm and believe that constantly evolving tactics is a necessary approach. What's needed now most is to disrupt the abuse of power and imbalance, to bring about a transition to a fair society that works together to end the fossil fuel era. Our politicians, addicted to greed and bloated on profits won't do it without pressure."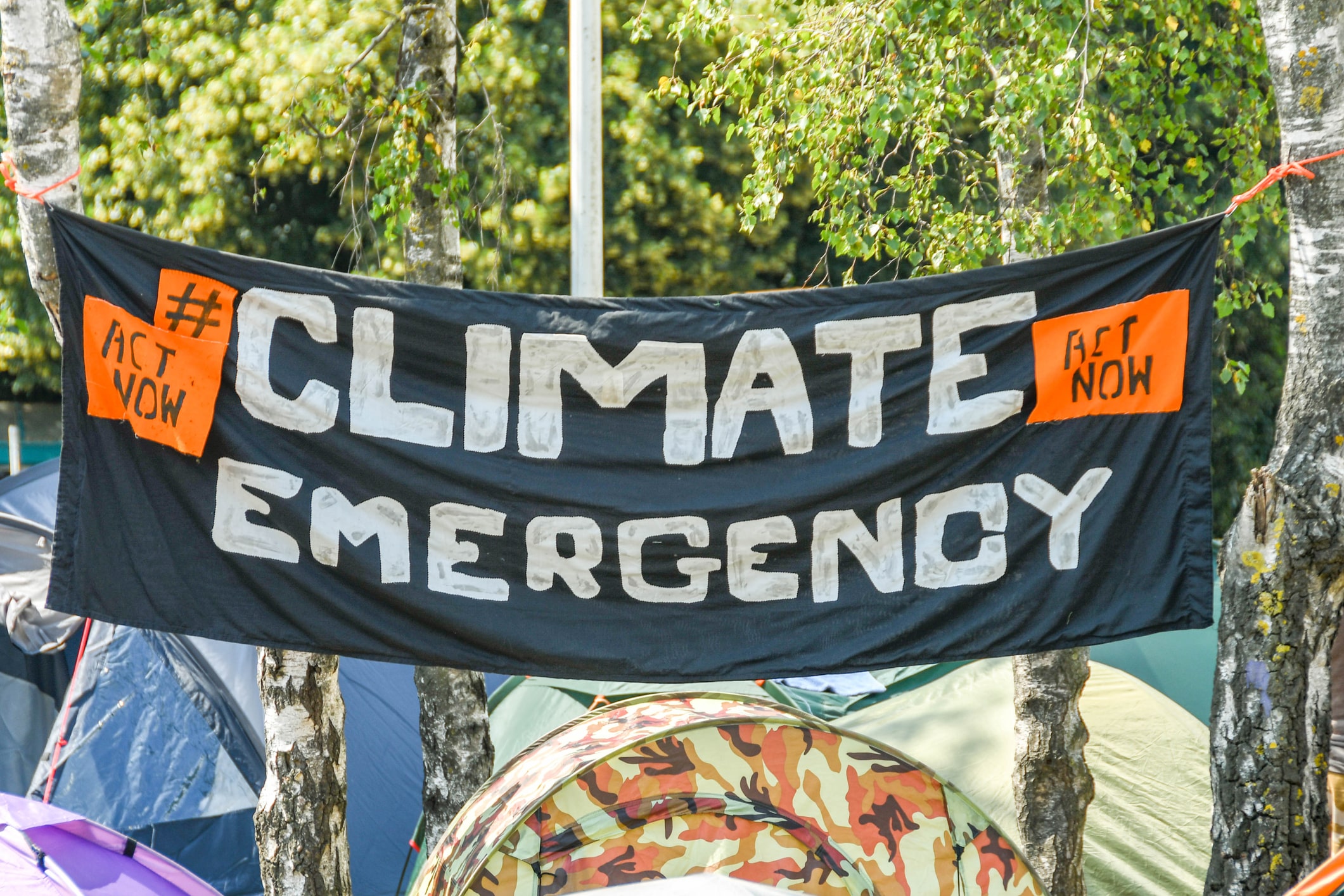 "Climate Emergency" banner hung between trees in a makeshift campsite in Cardiff city centre as part of the climate change protest by Extinction Rebellion. Picture by Ceri Breeze from iStockPhoto
XR has three key stated objectives. The first is that the "Government must tell the truth by declaring a climate and ecological emergency, working with other institutions to communicate the urgency for change."  Following this – which is highly unlikely to come from the incumbent regime – they want radical acceleration of biodiversity and emissions reduction targets, with a halt to biodiversity loss and a reduction of greenhouse gas emissions to net zero by 2025.  Finally, it is calling for the creation of a Citizens' Assembly on climate and ecological justice.
While the latest announcement is eye-catching, it is actually more of an evolution to XR's approach than a revolution.  Many of the more radical members had already moved on to take part in direct action with other groups such as Just Stop Oil or Insulate Britain (both founded by one of the original XR founders Roger Hallam), which have been responsible for actions such as road closures or blockading oil refineries over the last year.
Just Stop Oil protesters throw paint on a Van Gogh painting. Picture by Antonio Almos, The Guardian
Extinction Rebellion has been successful in recruiting new types of people to climate action in a way that hadn't happened before: teachers and nurses have rubbed shoulders with off-grid activists at events up and down the country.  Their next challenge is to extend that even further, to the point where politicians simply have to pay attention or feel the consequences in the voting booth.
Subscribe
Sign-up to receive our newsletter