Pick up takeaway cappuccino. Drink it on the way to the office. Throw away the cup in the recycling bin. Easy, right? Actually most coffee cups can't be recycled through public recycling bins and you could actually be responsible for all the rubbish in that bin – or worse still, an entire truck load – having to go to landfill.
It's not that the cups can't be recycled at all, but the thin plastic coating inside makes it quite difficult and the recycling needs to be carried out at specialist facilities. That also requires dedicated collection points, which at the moment only tend to be found at some coffee shops themselves or in more enlightened offices.
Overall, less than 1 per cent of coffee cups are recycled.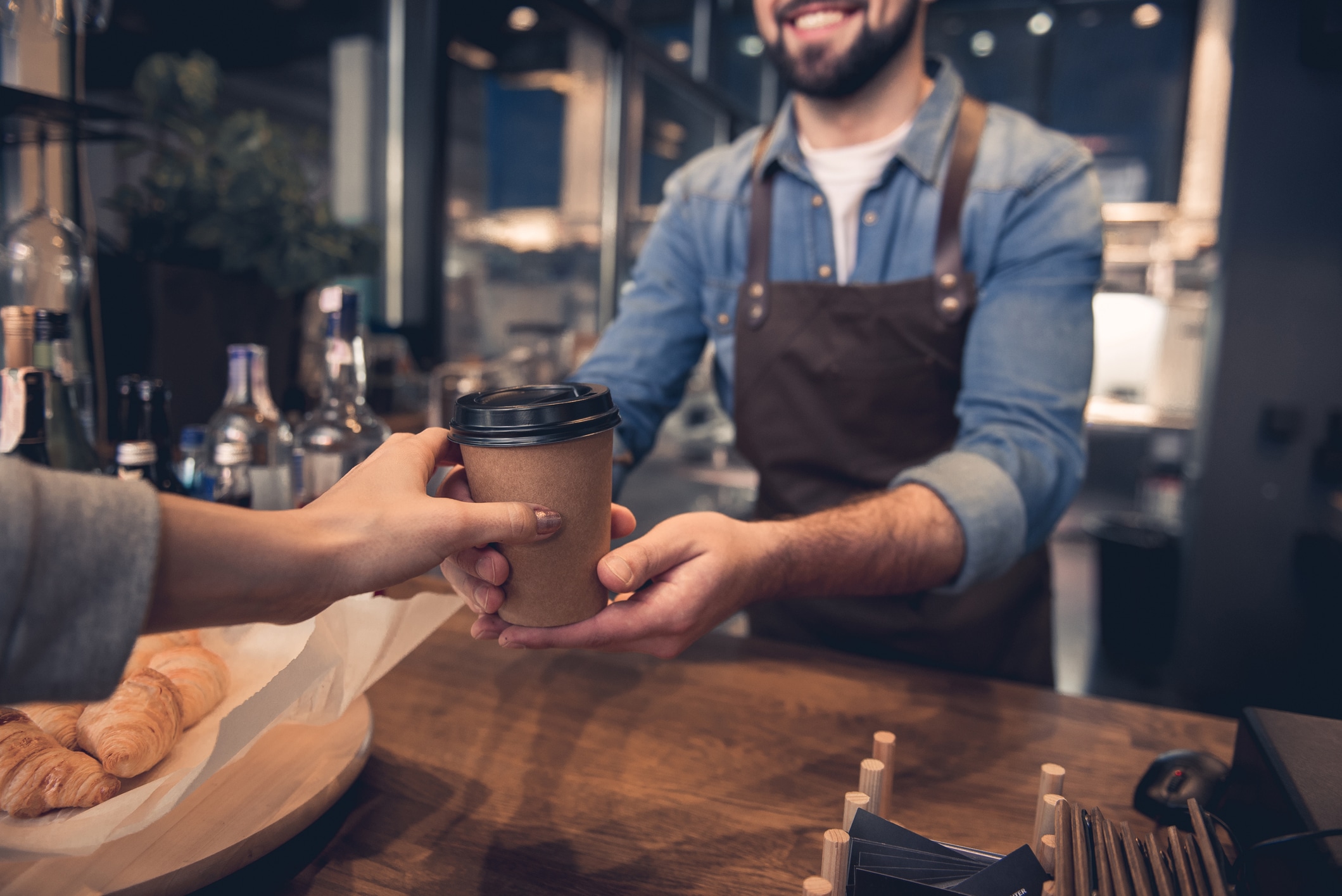 2.5 billion takeaway coffee cups are used every year in the UK. Only 1 per cent are recycled. Picture YakobchukOlena on iStockPhoto.
Given that around 2.5 billion paper cups are used every single year in the UK, that's a lot of cups going to landfill. The wider environmental impact is also huge. As mega-gluggers, the UK's estimated 2.5 billion takeaway cups result in 6.5 million trees being cut down, 4 billion gallons of water going to waste, and using enough energy to power 54,000 homes for a year.
But behind this takeaway cup problem is a multi-billion pound quest for solutions, involving both persuasion and innovation.
The easiest way to reduce the issue is to encourage people to have their own reusable cups.
The three biggest coffee retailers in the UK – Costa, Starbucks and Caffe Nero – all provide incentives for customers to bring in their own reusable mug rather than using a disposable cup.
Costa offers a 25p discount and a buy 4 get 1 free offer for loyalty members who use reusable cups. Starbucks also offers a 25p discount while Caffe Nero offers double stamps on its loyalty card, which it says equates to 25p. Greggs and Pret a Manger also have discount schemes. Pret is the most generous with a 50p discount, although there's been no indication whether their popular coffee subscription scheme – which doesn't incentivise shunning disposable cups – has had any effect on cup usage.
All the chains sell their own mugs, ranging from the cheap at £1 (Starbucks' basic mug) to the more costly (£10 for Pret's bamboo based offering), but literally thousands of options are available on the high street and online at different price points, such as Wake Cup, Circular & Co or the seemingly ubiquitous Chillis.
While going for a walk to get a coffee provided much-needed respite during the COVID pandemic, restrictions meant that reusable cups couldn't be used as they could have increased virus spread. We asked Caffe Nero, Starbucks and Pret whether this has affected long-term use, but none were willing to provide information. So, it's probably safe to assume that the answer is yes.
As well as encouraging consumers to behave differently, big money is also being spent on innovation to find solutions to the technical challenge of making cups that can be generally recycled.
The largest funding is coming from the USA, with mega-companies such as The Coca-Cola Company (owner of Costa), McDonalds, Starbucks, Wendy's and Yum! all among businesses committing money to an organisation called NextGen Consortium. This consortium in turn funds research and initiatives to "identify, accelerate and scale commercially viable, circular foodservice packaging solutions."
The NextGen Consortium is operated by Closed Loop Partners, and Starbucks and McDonald's – the original founder members – recently committed another $10m to continue its work.
One of their key initiatives is the
NextGen Cup
Challenge that has sourced 480 solutions globally to redesign the cup, selecting
12 winning solutions
across three areas: innovative cup & cup liners, new materials, and reusable cup service models. Importantly, they also fund an accelerator to support six early-stage teams to help test and refine their solutions.
One of the winners was WestRock, which has developed a recyclable and compostable paperboard solution for a hot or cold beverage cup. The cup is being designed to consistently hold hot and cold beverages under a variety of conditions while being easily recyclable, ideally back into paper mills as post consumer fiber where it can be made into new cups.
You may be thinking that this all sounds like lots of corporations just trying to be seen to do the right thing, but their efforts are also supported by The World Wildlife Fund (WWF), which is an environmental advisory partner for the Consortium. Erin Simon, Head of Plastic Waste & Business at WWF comments: "With approximately 11 million metric tons of plastic waste ending up in our oceans every year, we need to bring circular packaging solutions to the table. We know that to tackle this massive, shared challenge, all stakeholders have to be involved. The NextGen Consortium can play an important role in catalyzing the collaboration we need by enabling cross-sector partnerships and open-source insight sharing, and we are proud to be a partner in this important work."
So, while we wait for these innovative solutions to become widespread, remember to keep that reusable cup with you – and actually use it – whenever that Cortado urge strikes. And if you just have to travel light, then you could seek out the ultimate drinking vessel – the edible coffee cup.
Kate Daly, Managing Director of the Center for the Circular Economy at Closed Loop Partners says: "Through NextGen, we've made great progress in growing more sustainable packaging solutions, and there is a lot more work to be done. Faced with increasing climate risks, eco-conscious customers and a resource-constrained world, the foodservice industry must double down on its efforts and band together to strategically tackle the mounting waste challenge."
Subscribe
Sign-up to receive our newsletter