OVER half of adults simply don't understand the meaning of common recycling symbols found on everyday household products, researchers have found in a recent UK study.
Eight key symbols appearing on thousands of supermarket items instructing buyers how to dispose of goods and packaging are not understood by 61 per cent of UK adults.
Even the classic tidy man symbol of a figure putting litter in a bin in an appeal to keep Britain tidy is not understood by a quarter of people.
Researchers found the product symbol that baffles people the most is the symbol "alu" meaning the product has been created from recyclable aluminium with 88 per cent failing to understand it.
We need to teach these symbols more widely in schools and workplaces for us all to live in a better and sustainable planet.
Next came a wavy green arrow symbol which indicates the manufacturers of products bearing the symbol have made a financial contribution towards the recycling of packaging. Some 83 per cent failed to understand it.
Then came the triangle-shaped plastics symbols which show what type of plastic a product is made from. It was not understood by 79 per cent.
A black tree-shaped symbol containing the letters FSE for Forest Stewardship Council meaning a product has been made from responsibly sourced wood was also not understood by 79 per cent of people.
A white loop symbol with a heart-shaped arrow on a green background meaning the product can be recycled by most local authorities was not understood by 68 per cent of people.
A black looped leaf symbol meaning a product is compostable was not understood by 63 per cent.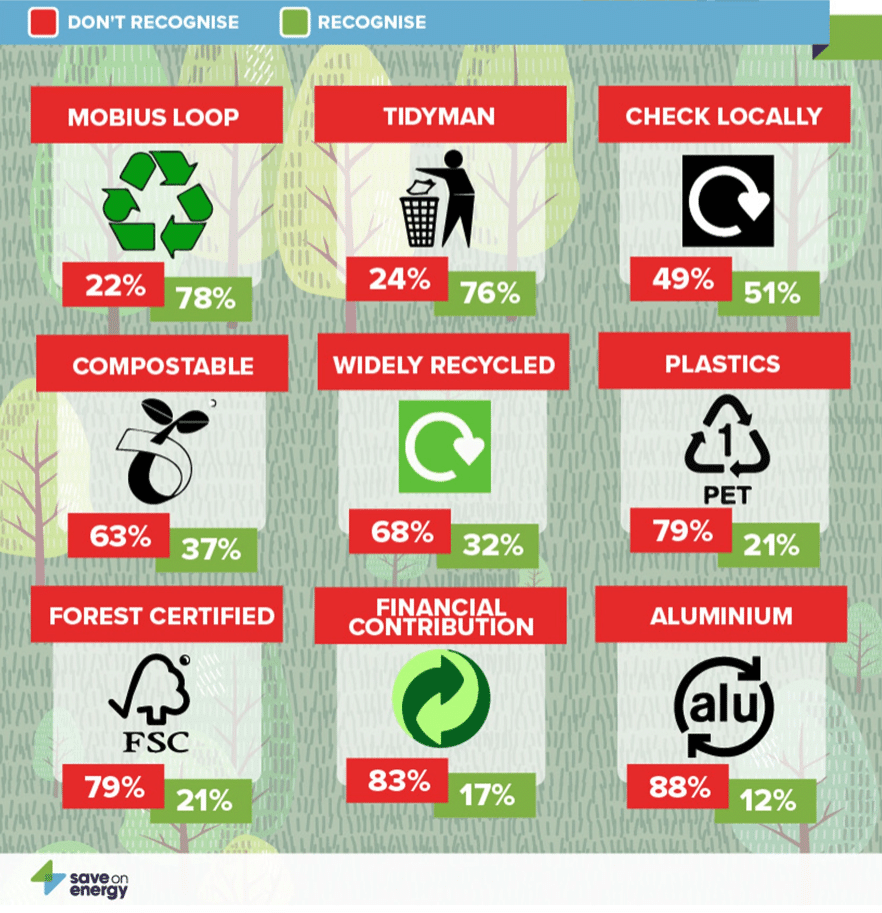 Many adults don't understand common symbols.
Some 49 per cent failed to understand the white loop-shaped arrow on a black background which means people should check to see if their local authority recycles the product it appears on.
The classic tidy man symbol of a black figure dropping litter in a bin was not understood by 24 per cent of people.
The symbol dates back to the 1960 Keep Britain Tidy campaign and is nothing to do with recycling but is a reminder to dispose of waste properly.
A symbol showing a series of thick green arrows forming a triangle shape – known as a mobius loop – and which means a product can be recycled was not understood by 22 per cent of people.
Energy experts SaveOnEnergy.com asked 2,300 UK adults which of the eight product symbols and the classic tidy man symbol they understood.
Spokeswoman Linda Dodge said: "It is really fantastic how far we have come to help save the animals and our environment by minimising the amount of plastic we use and waste.
"Although there is a long way to go, symbols are put on items so consumers know what to do with them.
"However, it seems they may be adding to the confusion with this study showing more than half of us don't know what most of the signs stand for.
"It would suggest we need to teach these symbols more widely in schools and workplaces for us all to live in a better and sustainable planet."