Claiming to be the 'biggest step forward on climate ever,' President Biden's mundane-sounding Inflation Reduction Act may provide a shot of adrenaline to global governments to stimulate their own climate change plans.
The Act provides an unprecedented $369 billion to tackle the climate emergency through measures such as expanded tax credits for energy efficient commercial buildings, new energy efficient homes, and electric vehicle charging infrastructure. It also aims to build "American clean energy supply chains, by incentivizing domestic production in clean energy technologies like solar, wind, carbon capture, and clean hydrogen".
The effect of the Act could be a reduction in US emissions of up to 40 per cent by 2030, compared with 2005 levels. This would nearly achieve President Biden's goal of halving emissions within that time scale and bring the country two-thirds of the way to meeting its 2030 goal set out under the Paris Agreement.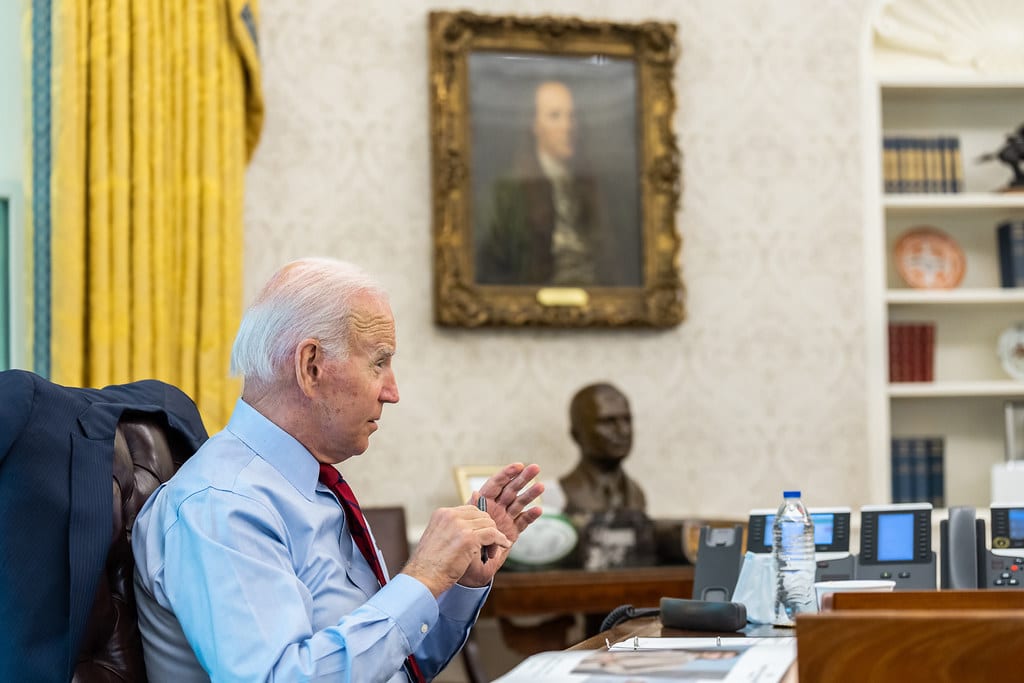 The Inflation Reduction Act is a coup for President Biden, but a watered-down version of his original plan. Picture from The White House on Flickr.
While it's being heralded as a great achievement, and a significant political victory for the President, it is actually a watered-down version of the Build Back Better Act that didn't get approval. It is the result of painstaking negotiations by Senate majority leader, Chuck Schumer with Senator Joe Manchin. Although a Democrat, Manchin objected to the scope of the original $2.4 trillion plans on affordability grounds, but critics are quick to point out that the real reasons may be more venal: he is a 'coal baron' who stands to lose a lot personally if the energy transition is too quick and deep.
The thinking behind the Inflation Reduction Act (IRA) is to invest in infrastructure that will in turn reduce emissions rather than concentrating on encouraging consumers to buy green.
Prof Jesse Jenkins, an energy researcher at Princeton University, told ABC News the bill marked "the first substantive piece of climate legislation that has made it through the US Senate in history, after decades of inaction".
What will the Inflation Reduction Act actually include?
President Biden commented: "This bill is the biggest step forward on climate ever. It's going to allow us to boldly take additional steps toward meeting all of my climate goals, the ones we set out when we ran."
However, politics being politics, the IRA hasn't pleased everyone and immediately faced criticism. Senate minority leader Mitch McConnell described it as a package of "job-killing tax hikes, Green New Deal craziness".
Democrat senator and former would-be President Bernie Sanders, chair of the Senate budget committee, warned that it went "nowhere near enough" on a number of fronts. His main source of criticism is towards the non-environment measures in the IRA, such as reducing healthcare costs.
Other areas the IRA sets out to address include strengthening America's manufacturing capabilities and supporting workers, as well as making the tax code "fairer".
What was the reaction around the world?
The US' track record on dealing with climate issues has been sketchy at best. The Trump presidency, which included pulling out of the Paris Climate Accord very early in his tenure, has shown just how divided the political landscape is. This makes politicians, even among staunch international allies, dubious as to whether America's climate promise will actually be delivered.
An EU official, speaking to Politico commented: "It's obviously good news that US climate policy will be able to move forward. Though the difficulties to get this passed in Congress don't bode well for any kind of further legislative moves."
Speaking to AP News, Shayak Sengupta, a fellow at the Observer Research Foundation America, a Washington-based affiliate of a think tank in India, was also guarded. "Considering that this bill is long overdue after years of U.S. climate inaction, many countries may view this as the 'bare minimum' of the U.S.'s historical and moral responsibility for climate," he said.
However, others do believe that the American move could stimulate action across the world.
Deborah Seligsohn, an expert on China's politics and energy at Villanova University and a former U.S. diplomat in Beijing, said it could spark competition. "To the extent the U.S. starts really investing in things that compete with key Chinese businesses — in solar, wind, electric vehicles, batteries — I think you're going to see Chinese businesses interested in ramping up their competitiveness in these industries, by making better products and bringing prices down," she said.
Vibhuti Garg, an energy economist specialising in India, said US investment in clean energy research could help nations that don't have the same resources and expertise to develop new technologies. She commented: "The U.S. can share the technology know-how with other countries, especially the Global South."
With just two years to go until another US presidential election, implementation of the IRA needs to move ahead with utmost urgency to avoid further argument (at best) or another sudden withdrawal of commitments if Donald Trump were to be re-elected.
Subscribe
Sign-up to receive our newsletter