Whether your love for music stems from dancing the night away to live music, streaming music from your device or in front of your decks mixing songs, the industry itself offers mixed reviews in terms of its sustainability. Therefore, it's vital to know what's being done and how we can make a difference.
A recent report highlights that the carbon footprint of an hour of media streaming is estimated to be 55 grams of CO2 equivalent, with vinyl releasing over 2 kilograms of CO2 per unit.
The report further highlights that the streaming of the song "Drivers License" by Olivia Rodrigo has been responsible for more than 4,000 tonnes of CO2 emissions since January 2021. That's more than a return flight from London to New York 5,000 times, and the annual emissions of 500 people in the UK.
Julie's Bicycle reported that the UK music market is responsible for around 540,000 tonnes of CO2 per annum. Which is the equivalent to 58,993 homes' energy use for one year.
Kristian Floate, 20, an avid music consumer, offered an opinion on sustainability in the entertainment industries. He thinks that "the most effective way the creative industries have become more sustainable is how TV, films, magazines and music are being increasingly consumed online. With less carbon emissions from pressing vinyls, printing paper and packaging physical products, the industries are more environmentally conscious".
He believes that "the industries use a lot of single use plastics though – i.e wrapping on CDs, plastic seals and bubble wrapping on vinyls purchased – but more is being done to minimise it".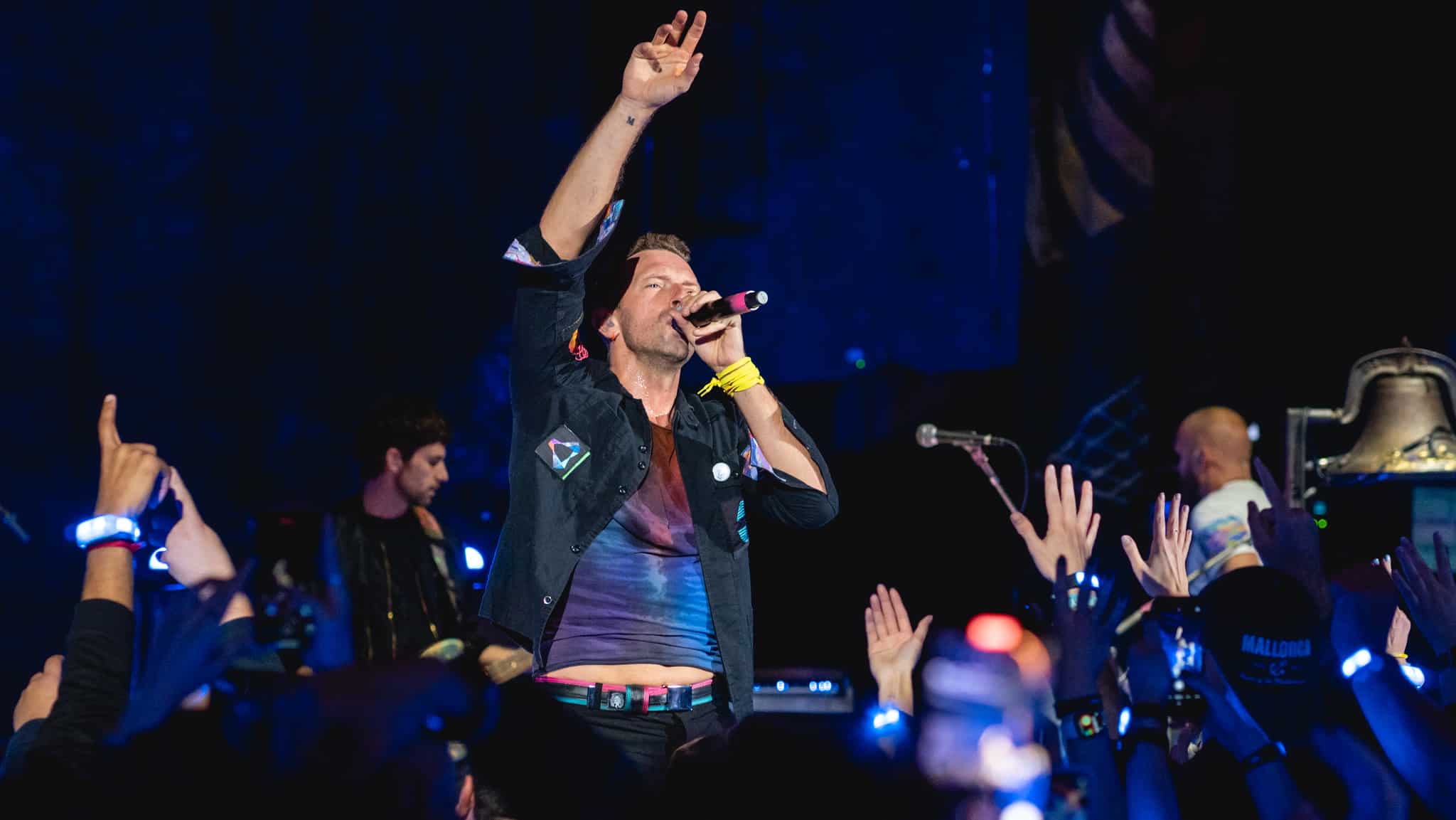 Coldplay have focused on the sustainability of their tours. Picture credit: Raf_PH on Flickr.
In terms of CD players, a study on music consumption and environmental costs show that in 2000, when CD sales were at their peak, 61 million kilograms of plastic was used in the recording industry in the US, which dropped down to 8 million kilograms in 2016.
And when it comes to playing music online, streaming music with a hifi sound system can use up to 107 kilowatt hours of electricity a year, compared to a CD player using 34.7 kilowatt hours a year. Therefore, even though music streaming on online platforms may have benefits from a plastic usage standpoint, it makes up for it with the amount of energy used.
Spotify has been using their platform to raise awareness of climate change across the globe. Promoting podcasts such as 'your guide to climate solutions', '1,5 Grad' by Luisa Neubauer, and 'How to Save a Planet' by Dr. Anaya Elizabeth Johnson.
Their 2020 report highlights that they emitted 169,000 tonnes of CO2, 26% reduction from the previous year. And 42% of their greenhouse gas emissions came from their listener's streaming.
Festivals and venues: the sharp end for tackling climate change?
Festivals and live music are a substantial part of why our society falls in love with music. Going to see a band live and listening to them on your smartphone has no comparison, the buzz you get from live music is unmatched. And with millions attending festivals and venues every year, it's important to know how this affects the climate and what's being done to address it.
23,500 tonnes of waste are generated every year at festivals, 68% of which goes directly into landfill.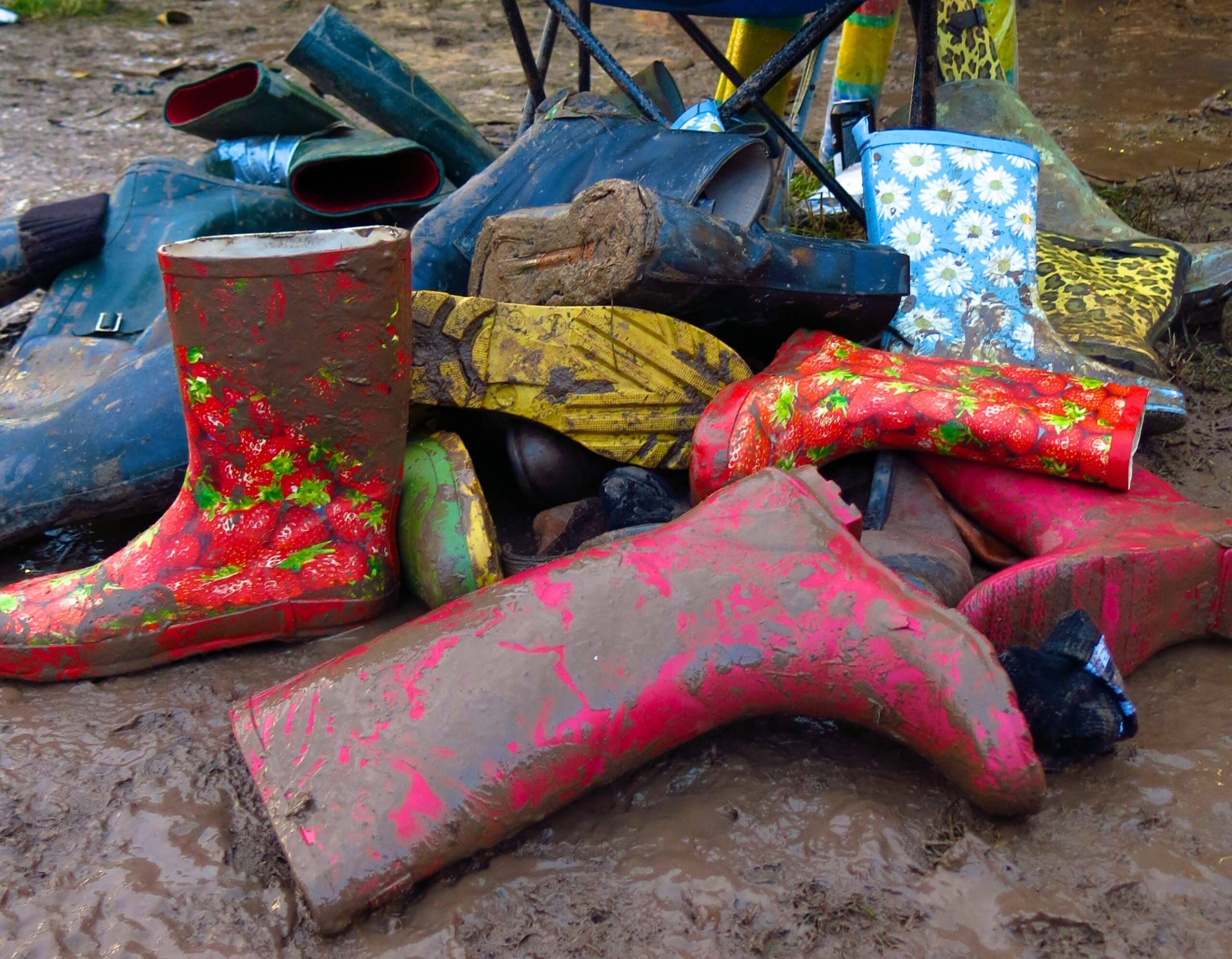 Wellington boots discarded at the Glastonbury Festival. Picture credit AmyLaughinghouse on iStockphoto
I carried out a small (admittedly not scientific!) survey on the sustainability of festivals to understand what is being done at festivals and what could be worked on. My study shows that 60 per cent find a water refill station at a festival, with 80 per cent of people taking a refillable water bottle with them. 50 per cent of people would always clean up after themselves, and 10 per cent would not. And 60 per cent of people feel that the venue is not clean at all after a festival. Even with people clearing up after themselves, there is still a heavy amount of waste left behind.
Coachella has been reported to produce an average of 106 tonnes of waste per day over two weekends of the festival. The report states that this is more than the weight of a Boeing 757 with 300 passengers on board.
Glastonbury revealed that in 2017, the clean up cost for the festival came to £785,000, with over 1,000 cleaning volunteers and lasting 6 weeks.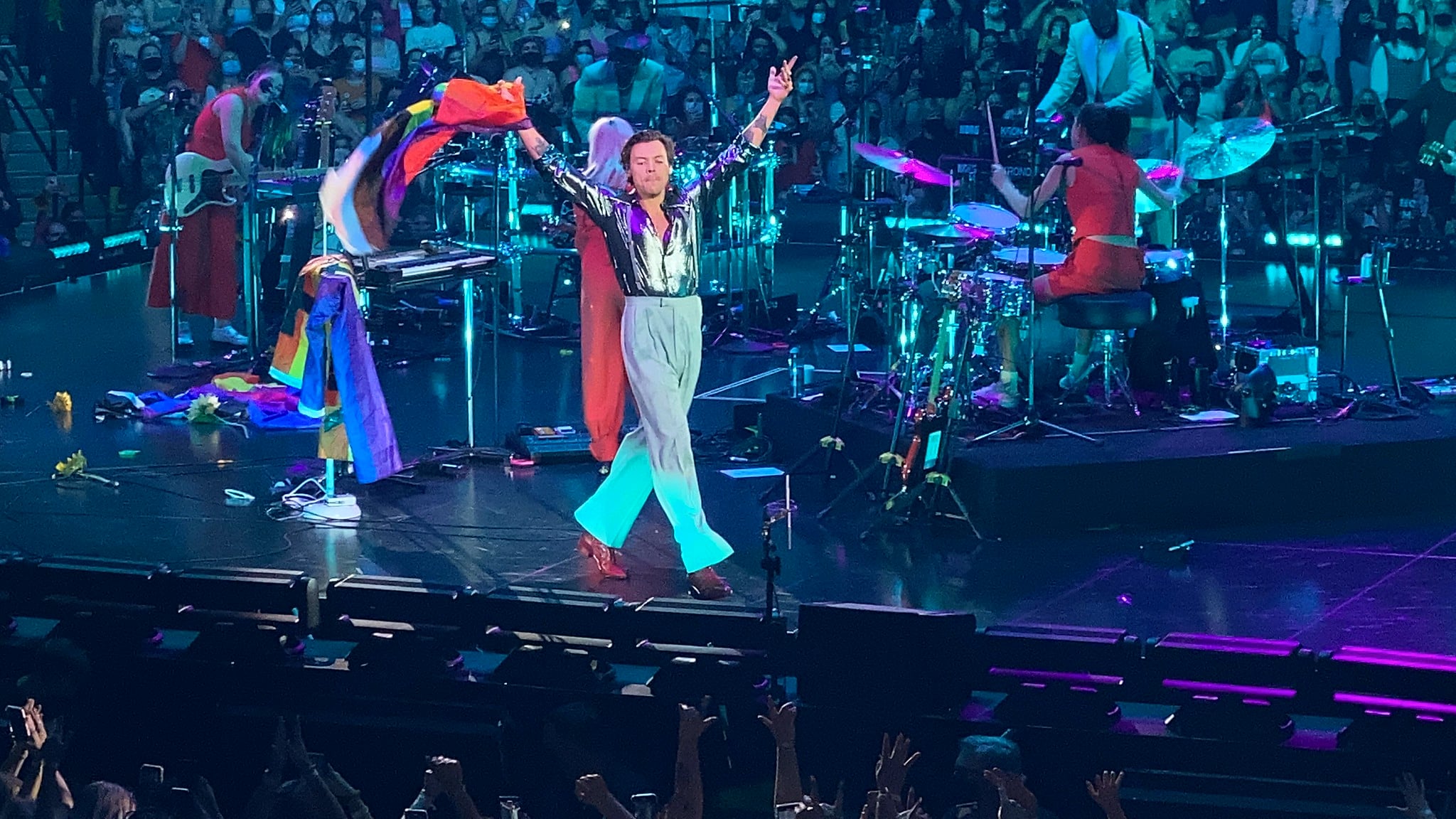 Harry Styles playing at the Xcel Energy Centre. Picture credit Erin McCormack on Flickr.
REVERB is a US-based non profit organisation that focuses on the empowerment of millions of people to tackle the environmental and social problems we are facing. Their work involves the collaboration with musicians, festivals and venues to create concerts and events that promote sustainability and to take action on environmental issues. Their impact has resulted in over 180,000 tons of CO2 being eliminated, along with over $4 million being raised for environmental causes.
One of their mainstream projects included their partnership with Harry Styles on Love on Tour – the tour included an Action Village, where there was access to free water refill station, where you could use your Harry Styles reusable bottle that you could claim from a donation.
Their efforts to gain tour sustainability included Harry and the whole crew using reusable water bottles and insulated mugs, compostable service ware and water fill stations throughout the backstage area and on tour buses. Recycling was made throughout the tour, along with battery reclamation and toiletry donations.
The efforts of REVERB, Harry Styles, fans and the tour crew resulted in over 40,000 actions taken by fans at his shows, along with over 33,900 single use plastic bottles being eliminated. The funds raised by this tour supported the Ghana Clean Water Project, Sky Wind India Project and Solar Powered Streetlights. Click here to find a range of tours, artists, venues and festivals they have partnered with.
Furthermore, Billie Eilish is set to be Glastonbury's youngest solo headliner in 2022. And as she plans to tackle unnecessary waste at her festivals, she will stop an estimated 35,000 single-use water bottles from being wasted.
Resident Advisor examines how festivals are responding to the current climate crisis.
How can we know people will take on this message?
These artists and venues promoting the message and encouraging the public to 'take action' is having an effect. I took to Twitter to see whether the public are taking on the message and how they feel about the current climate situation in the music industry; these tweets are typical:
It is clear that the music industry is starting to tackle sustainability head on. The battle for sustainability will continue for the foreseeable future, and the music industry can be said to be doing their part to help the cause.
Julie's Bicycle released the Creative Climate Census – a survey that "captures the attitudes, values and actions of cultural leaders in response to climate change and environmental sustainability and their impact on business planning and decision making". The survey gained 476 responses, with an average business turnover of £1.1billion.
The study indicated that 75 per cent of music businesses have experienced benefits from environmental actions and 55 per cent think environmental sustainability has become increasingly important to their organisations.
How does music compare to other industries?
The music industry is only one industry of many in the entertainment sector. So what are others doing to combat climate change?
The Playing For The Planet Alliance is a campaign facilitated by the UN Environment programme, launched within the gaming industry. The alliance has the ability to reach more than 1 billion video game players. Its members include Sega, Unity and Pixelfederation.
Its signatories have made commitments to reduce emissions by integrating green activations into games, and to support the global environmental agenda through initiatives that range from planting millions of trees to reducing plastics in their products.
The Alliance's 2020 Impact Annual Report featured games that have made a staggering impact. Including the video game 'Minecraft', they released a 'Climate Hope City' where the aim is to give players an imagination of what a zero emissions world would look like. Along with a 'Build a Better World' initiative aiming to trigger donations to oceans and clean water, engaging more than 20 million game actions.
These initiatives raised funds that were used to plant 150,000 trees across East Africa.
The Reel Green Initiative
promotes sustainable production in the film industry. Providing tools and information for organisations that wish to produce film in an environmentally beneficial manner. With contributors including Sony Pictures and Vancouver Film Studios.
Alongside them are vendors such as Keep it Green Recycling and Green Spark Group who help production companies with recycling and greenhouse gas accounting. Helping films such as "Tomorrowland" achieve 91% waste diversion rate from landfills through following a zero waste initiative.
This inspired Sony Pictures to follow suit – with "The Amazing Spider Man 2" achieving 52% waste diversion rate from landfills. And becoming the most eco-friendly film in the history of Sony Pictures, saving an estimated $400,000 through going green.
As Paul McCartney said in Despite Repeated Warnings: "Despite repeated warnings, our danger's up ahead, the captain won't be listening to what's been said. Red sky in the morning doesn't ever seem to faze him, but a sailors warning signal should concern us all."
Subscribe
Sign-up to receive our newsletter