With just 400 weeks until 2030 – the date most governments and businesses are targeting for substantive climate measures to be in place – the adoption of electric vehicles (EVs) is picking up pace. That's creating huge potential growth in the EV charging market. After all, who wants to be driving around in a sparkly new EV looking for a charger ever more desperately as the range dwindles before your eyes?
A new report from analysts Grand View Research is predicting high-torque growth: "The global electric vehicle charging infrastructure market size was valued at USD 19.26 billion in 2021 and is expected to expand at a compound annual growth rate (CAGR) of 30.6% from 2022 to 2030."
This would see a market size of $217.06 Billion by 2030.
Grand View sees the fastest growth coming from the fast DC (direct current) charger segment owing to the ability to rapidly charge electric vehicles in less time compared to conventional AC chargers. A 350kwh charger can charge a typical EV to 100% in around 40 minutes compared with a 10-hour overnight charge using a 7kwh residential charger.
The number of fast-charging stations is increasing, such as the new GRIDSERVE High Power Electric Super Hub at Moto Thurrock, featuring 12 350kW-capable chargers
It's also predicted that more commercial venues such as service stations, hotels, shopping malls and public parking facilities will lead the take-up of chargers in North America in particular.
Grand View Research expects the Asia Pacific region to grow fastest from 2022 to 2030 due to significant growth in electric vehicle sales in the region and extensive deployment of EV chargers in countries such as China and Japan.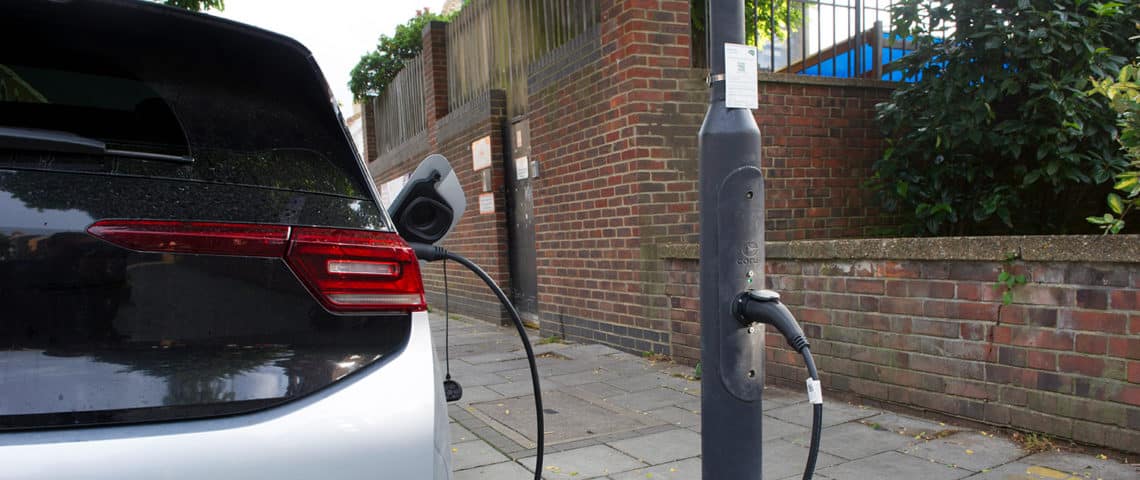 Street lamps provide a convenient location for EV chargers. Picture from Ubitricity.
As with most boom sectors, there's a lot of movement in the market. The car manufacturers such as Tesla, VW and BMW have invested heavily in infrastructure. But the pure-play charging companies such as Chargepoint and GRIDSERVE and the in-transition oil companies such as BP have also expanded rapidly, with numerous acquisitions. Expect more in the coming years.
In the meantime, if you've already taken the EV plunge, keep looking for that tucked-away, under-used charge point. The competition for power is increasing.
Subscribe
Sign-up to receive our newsletter